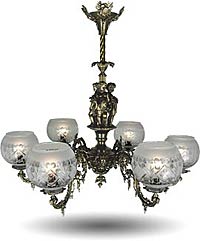 Think of shells, palm leaves, dragons, and flowers, to see the origins of this romantic design style . When Victorians tired of classicism's straight lines looked to historic inspiration, they brought it back as Neo-Rococo
(1820-1870).
French, Italian, Prussian, and English, Victorian-era designers adored the elaborate curves and nature-inspired patterns.
Our Victorian collection is unmatched anywhere in quality and style. Victorian and Rococo art, furniture, decor, & architecture of the 18th century took different forms in each country, but all agreed it was ornate, elegant, whimsical, and graceful.