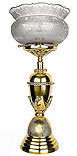 Also known as Pillar Lights, Newel Post Lights were used to light shop counters as well as homes. They could be fixed, or of the portable variety, connected to the gas source with a rubber hose, they come from as early as 1844.
In very large Victorian homes, they could also be used along the stair rail, placed along the stair rail, every 10-15 feet, to supplement the hall lights.
Click to see Newel Post and Pillar Lights.