Gallery Railing and Fittings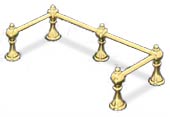 Our solid brass single, double and the larger 1/2" tube railing and mounting hardware can't be topped in quality. Plain or decorative, residential or commercial. Available in a variety of finishes.

If you're looking for larger bar or hand rail, please see our hand, bar and foot railing and fittings.