Stem and Ceiling Kits, Fitters and Lamp Parts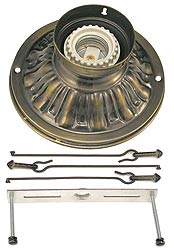 As a manufacturer, we offer lighting components to complete your antique lamp and chandelier restorations. We also sell light fixture extension kits for today's two and three story ceilings, especially in entryways.
We understand that the needs and specifications for each customer can be different - and that is why we provide a wide range of fitters, mounting kits, and adapters to assure proper installation every time. All of our parts, kits and fitters are also designed so that they blend in nicely with the style of your light fixture - while maintaining a sturdy and safe setup.
If you need a special finish for any of these parts, just call us at 360-379-9030 for a custom order.