Antique Window Transom Operators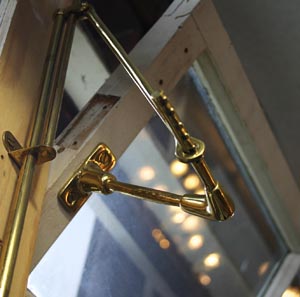 Commonly used in older homes, offices, or schools - window transom operators were used to open or close windows that were mounted high up on a wall or doorway.

Our recreated Victorian style transom hardware are made from solid brass in a strudy - construction built to last. To view or print a measurement diagram for our transom operators - click here.

As with all of our hardware, you will also notice the attention to detail that has been given, to ensure an authentic and classic look to the transom operator hardware.

Most of this hardware can be supplied in your choice of finish - from polished brass, antique brass, nickel plated, or an oil rubbed finish.