Vintage Style Window Hardware
The window hardware mechanisms range from rotating locks and swing locks, to pocket window handles and lifts. Our collection includes Victorian style window hardware , Art Deco window and lift handles, Arts & Crafts copper handles for windows, and much more.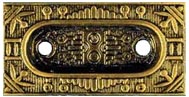 We use lost wax casting for most Victorian and Art Deco hardware, and hammered copper for our Arts & Crafts collection.